Online Title Loans With No Store Visit In Yuma AZ
We can help you find a solution to your need for a car title loan in Yuma, Arizona. Yuma is a medium-sized city in the Southwest portion of Arizona near the Mexico-US Border. The cost of living is low, but the unemployment rate is constantly higher than the state average in Arizona. That's why many people apply for online title loans when they need same day cash!
Some applicants apply for a title loan online with us but don't know what's required and how much cash they can get for their vehicle. Therefore, we're going to break down the basics so that anyone who applies for a car title loan in Yuma, Arizona, knows what to expect and how quickly they can get their cash.
What Are The Requirements In Yuma To Get A Title Loan?
When you apply with Desert Title Loans, we require your car title, recent pay stubs, and vehicle registration information. Sometimes, we may ask for proof of vehicle insurance, and we'll check your credit to look for current bankruptcies or loan defaults.
After underwriting the loan, we'll schedule a brief vehicle inspection for you with a local lender in Yuma. This inspection takes less than 20 minutes, and once approved, you'll sign the loan docs and schedule a time to get the loan proceeds.
How Are Title Loans Different From Other Unsecured Loans
Car title loans differ from those offered through traditional lenders because we won't ask for a conventional credit check. When you apply for an unsecured loan, it can take weeks to underwrite the application, and you're subject to various credit checks. Title loans, on the other hand, can be approved in less than a day, and most companies in Yuma won't worry about your credit history.
Registration loans differ from title loans as you don't need a lien free car title to qualify. The car's registration docs are the security for the loan amount. Registration loans in Yuma are easier to qualify for as the requirements do not include a paid off vehicle. One drawback, however, is that the loan amounts are smaller, with funding amounts of around $600.
Take advantage of the title loan deals right now in Arizona. Get cash fast to save yourself from financial trouble and be financially secure again. Whether you're struggling to pay medical bills, make ends meet monthly, or need money for another reason, take out a title loan from a registered lender.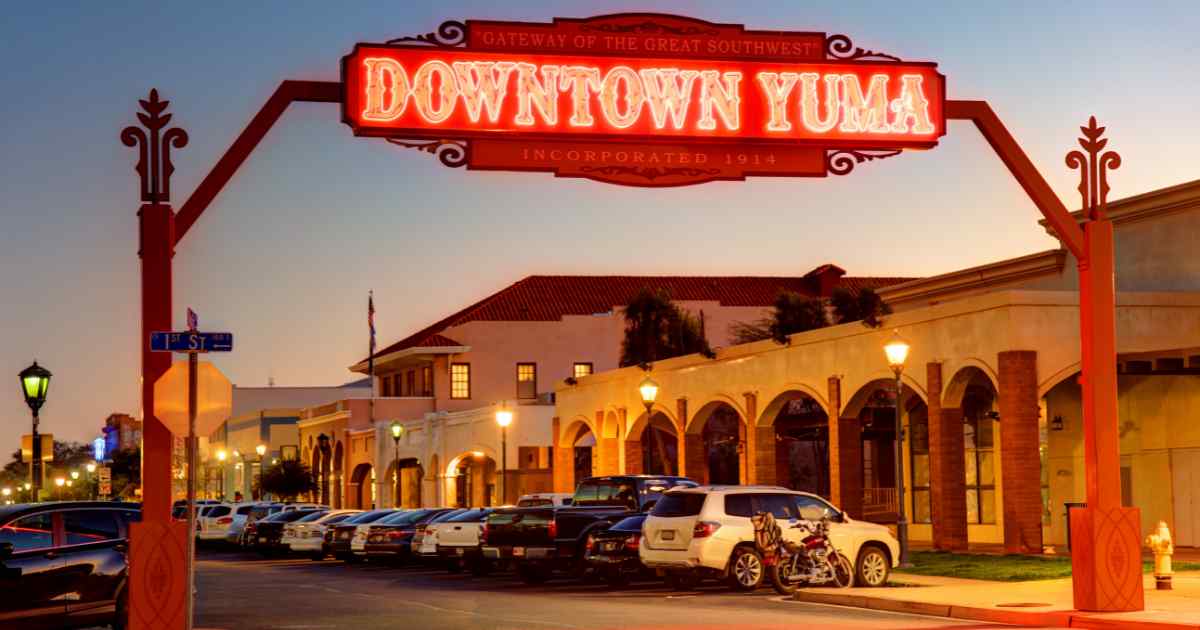 Bad Credit Title Loans in Yuma AZ
If you wonder whether a bad credit title loan is right for you, but you have poor credit, then your worry ends here. Desert Title Loans offers access to secured loans for anyone, even people with bad credit.
Our lenders don't look down on someone with a low FICO score as their most important qualification is a paid off vehicle. Apply with us, and there's a good chance we won't check your credit. You should be approved if you can show proof of collateral from your car or truck!
How Fast Can I Get Cash From A Licensed Yuma Title Loan Company
The time it takes to get your money depends on how quickly you submit your documents. If you send in all the paperwork upfront and complete the vehicle inspection, your lender can send the loan proceeds by direct deposit in 24 hours or less! The funding process can be even quicker for someone looking for a neighborhood lender in Yuma. So why not start your application online with Desert Title Loans or call 623-526-5001? After we get you an initial estimate, we'll connect you with a local lender in Yuma!
Other Cities In Arizona: