We know you have many options and choices when considering a title loan company in Arizona. That's why we strive to make things as simple as possible for you from start to finish. We pride ourselves on having the most up to date information on everything that involves online lending. Our site not only covers lenders in this state, but all throughout the country. We also want to make the application process easy and simple. Most applicants will go ahead and submit their information by using our online form. But you also have other choices if you have questions or don't feel comfortable doing everything online. If you reside within the state, you can call our local number and speak to a qualified rep who will help you with the application. You also have the option of speaking to someone through the online chat portal. By doing this you can still submit the info online, but you chat with the rep if you have any questions or concerns.
Besides making things simple for anyone who wants to apply for funding in Arizona we also want to be thorough.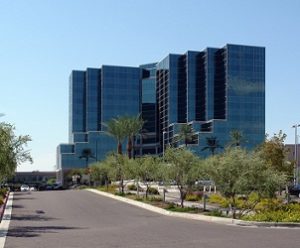 You can always check out our updated State Regulations page. This page features the most recent news and legal issues that concern short term lending and title loans in Arizona. We're not attorneys and we never give legal advice. Instead we want that page to be a resource to our local visitors who have questions about the different types of restrictions in place for online title loans. As we state throughout our site, we're not a direct lender and we don't fund online title loans in Arizona or any other state. Instead we work with many direct lenders and we're able to get you the best rates and terms for your specific situation. That's not saying we're going to send your information to companies all throughout the Country. Simply put, we have a network of local companies that are based right here throughout the state. If you went to a direct lender you'll be left with one quote and no real alternative options.
With Desert Title Loans, qualified applicants can get multiple quotes. Ultimately, you should make an informed decision that best fits their needs. Hopefully we can provide a better understanding for our visitors on how an online title loan can benefit you. These high interest loans aren't for everyone. There are definitely better financing options in place for those who qualify. Use our site for information and guidance, but definitely do your own research. Check out the many different lending options here in Arizona. You'll also want to look into each lender that you may end up working with. Make sure they're registered and allowed to provide loans in Arizona. Only move forward with a company when you have all your questions answered and feel comfortable with the title loan they provide.